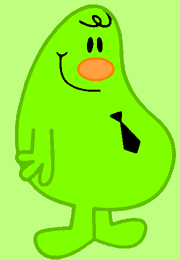 Mr. Nosy (spelled Mr. Nosey in the UK) is a character in The Mr. Men & Little Miss Show. He is Mr. Small's best friend and has a sister named Miss Curious.
Mr. Nosy is very nosy. He is so nosy that Mr. Impossible and Miss Magic came up with an idea: Every time Mr. Nosy is being nosy, Miss Magic makes his nose grow and Mr. Impossible does something to his nose. When Mr. Nosy sees a saw cutting wood, he realizes something terrible would happen to his nose, so he went on his way. He notices that his nose shrank when he did. The next day he is not nosy and his nose is back to its original size.
Ad blocker interference detected!
Wikia is a free-to-use site that makes money from advertising. We have a modified experience for viewers using ad blockers

Wikia is not accessible if you've made further modifications. Remove the custom ad blocker rule(s) and the page will load as expected.