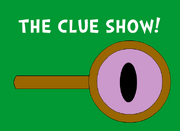 The Clue Show is a game show hosted by
Mr. Dudeman
and co-hosted by
Number 9
. It is said that the show helps Mr. Dudeman solve the cases of
his agency
. The host created the show himself.
Nine gives a contestant information about a case. Then, after the contestant says who he/she thinks will win, the actual players try to solve the case. If the contestant is right, he/she wins!
The 26 Color Case (Contestant: Miss Kind)
The Case of the Flying Bory (Contestant: Miss Fly)
The Search for Nutbob (Contestant: Miss A-Bob)
Ad blocker interference detected!
Wikia is a free-to-use site that makes money from advertising. We have a modified experience for viewers using ad blockers

Wikia is not accessible if you've made further modifications. Remove the custom ad blocker rule(s) and the page will load as expected.